Posted:
Struggle to Understand? Itasha from Japan - Vol.63
Do you know what Itasha means? Have you heard about it? Are you aware about car decorating concepts? Well, Itasha is an original Japanese concept of decorating the cars with different themes. Some paint it with anime characters, some with mythological characters, with video games, or manga. They decorate it with the paintings. There are paint schemes and they even do stickers. Such exhaustively painted cars are known as Itasha and similarly painted motorbikes are known as Itansha. Such cars are commonly seen in Tokyo, Osaka, and even in Nagoya. There were many events held exhibiting Itasha with different and exclusive designs.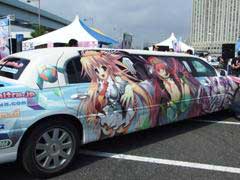 Japan is a hub of most powerful and efficient automobiles. Year 1980 was the economic boom in Japan. Many imported cars were seen running on the streets of the Japan. Itasha was a name given to the Italian car was much in demand. Itasha was derived from words itai, which means painfully costly and sha means vehicle. These were painfully costly decorative cars. Decorating the cars was started in 1980. The cars were being painted and even stickers were used. However, this fashion came to peak point in 21st century. The increase in popularity of Itasha, i.e., car painting was due to internet displays.
In today's fast paced world, cars have become a status symbol. Everyone wants to make his or her car look unique. If you are one of those, then you must know about Itasha. Nowadays, Itasha cars are also seen in motor sports and racing. Itasha cars are gaining popularity even in racing car sports. Itasha cars with lots of loud designs are based on some special theme. For example, some car owners paint their cars with anime characters, some with cartoon characters, even with mythological characters, or some hero which they believe in. There are huge car stickers used on the cars, which make them attractive and stylish.
The grilles, bumpers, front lights, rear end portion everything is changed with loud colors and some added accessories. Different colors of tail lights are used, like orange, clear red and clear. Powerful neon lights are used which becomes a great sight in the night. The cars are huge and sturdy. With strikingly phenomenal looks from inside and outside.
Along with the exterior, even the interiors are made according to the theme liked by the owner. Some use Victorian style, some modern, or something unique, which looks attractive and comfortable. The front or rear end lights are given attractive outlines with black or red color. With wide screen, added mirrors, bright colors huge and powerful lights the car looks out of this world. Attaching rear wing in the rear end gives great effect.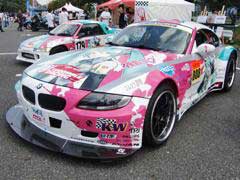 With all loud paintings of different characters and added accessories the car is ready to hit the road. There are many events like mud race, car race held. Itasha cars become the center of attraction on such events. Lancer Evolution VIIth participated in car race even on 2007. The car had themes like lucky starts and melancholy of Harushi Suzumiya it was dirt trial. Such cars have been of great attraction and also won many interesting races.
Along with cars, even Itasha airplanes are seen like computer cases, and many other electronic products. Such customized vehicles require lots of money, time, and energy with dedication and passion. However, when you own a car that grabs attention of all surely it gives you more than you invest in it. So, what are you waiting for? Are you ready to hit the road with unique car? Start your quest for the best and be prepared to make your way with dazzling car now