Discounted Cars
New Arrivals
77

Stock
Premium Cars
Useful Information for First Time Buyer
Everything You Need to Know About Japanese Cars

Vol.290 - All Terrain Vehicles VS Sport Utility ... - 10.Feb 2016

The ATV and SUV are commonly confused with each other. To distinguish between these two vehicle types, we also must examine a third, the UTV. Once a consumer understands what each vehicle is and what it is used for, it is far...

Vol.289 - What Is A Tune Up And Does Your Car Need One? - 03.Feb 2016

That's a good question, this is something most people don't think about or forget about all together. Every vehicle's owner manual will have a schedule in it, listing when you should have this performed. A tune up on vehicles...

Vol.288 - Windshield Wiper Maintenance Tips - 27.Jan 2016

While it is often overlooked, windshield wiper maintenance is very important for every vehicle. How well your wipers work directly impacts your level of visibility as a driver, and visibility is key to safe driving. If you cannot...
Tamotsu Todoroki - Sales Department
Join in AGASTA CO., LTD. and dealing with purchase of stock for years. After that moved to Sales Department and start serialized Column about Japanese used cars as a car advisor with a good deal of knowledge.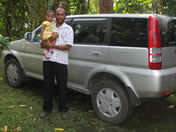 Dear Aki
I just want to say thank you for my vehicle (HR-V ....Code: 15202) which has finally arrived in Rabaul on 10th and picked up at the wharf on the 11th...