Posted:
Is Your Car Ready To Drive? - Vol.46
Auto care is imperative for a vehicle to operate smoothly and efficiently. Regular maintenance can keep your vehicle to run smoothly and efficiently. Lack of attention towards the car parts can hamper the quality and performance of the engine. It may cause severe maintenance problems even. Further, non-availability of spare parts can make this problem more critical.
Recent research shows that 5% of motor vehicle related fatalities are because of negligence towards vehicle maintenance. Automobile care ensures a safer movement. It contributes to healthy environment and extends the life of your vehicle as well.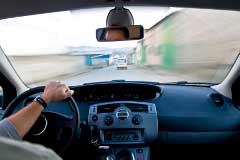 Auto maintenance means keeping the engine in tune. This can make you save money and time as well. If you tune up the engine at fixed intervals, it will help you keep the vehicle run efficiently and smoothly. It is cost-effective option and will help address other mechanical and electrical problems in the engine. If you encounter any kind of problem related with engine, then it is recommended to consult a technician. With his skills and experience, a qualified technician can find out the exact reason and propose a right solution.
Vehicle owners need to take care of their vehicle right from the date of its purchase. It is also beneficial for auto owners to have a brief idea about its engine. Many times, service providers cheat the owners and charge a huge amount of money for fixing a small engine problem.
Tuning up the engine comprises replacing the spark plugs, ignition wires, positive crankcase ventilation valve (PCV), fuel and air filters. Further, automobile care calls for testing fuel system, ignition system and servicing injectors. It also includes resetting engine timing.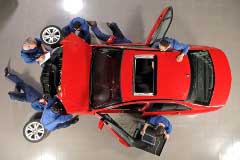 Let us have a look at few tips to keep the engine tuned up and the vehicle in a good condition
· Automobile owners should refer the user manual to fix certain minor issues within the engine.

· Auto care includes checking of the tire inflation. Keep in mind that under inflated tires may reduce fuel efficiency. Check the tires regularly. This is one inexpensive form of safety and preventive measure.

· As a thumb rule, change the oil filter regularly, each 3,000 to 4,000 miles.

· Check all the fluids including transaxle/transmission, power steering, windshield washer solvent, brake and antifreeze. All these fluids contribute for the good performance and safety of a vehicle. This is an important aspect of automobile care.

· A polluted sparkplug or restricted fuel injector may lower the fuel efficiency. Therefore, you should be alert while tuning up the engine. · Always check engine belts as worn belts can influence the engine performance. Check if the engine belts have developed any kind of cracks. Fix the problem as soon as possible.

· Clean the battery cables and posts when required. Inspect them for corrosion as well. Inspect battery fluids and fill them if needed.

· Lubricate the chassis frequently. This will help lengthen life of engine parts.

· You should test the lighting system including taillights, headlights, brake lights and turn signals.

· You should test washer blades of the windshield for cracks and tears. Also change them once in every year.

· Check air filtration system in the engine. Do this at every oil change to confirm that there is no clogging or damage. It will also ensure finer and smooth functioning of your car.

· Keep the user manual handy. You may need it any time. At the instance engine gives you a major or minor problem. You can refer the user manual to fix temporary issues before taking your car to a qualified expert.
With all these checkpoints, you are ready to enjoy comfortable ride of your smoothly and efficiently running vehicle!