Posted:
What Do My Corolla Maintenance Lights Mean? - Vol.75
Are you a proud owner of Toyota corolla? Are you aware about dashboard lights on your car? Do you know what the meaning of Toyota corolla dashboard maintenance lights is? Well, every vehicle owner is well aware that dashboard of car is the information station. It let us know everything we need to know. You know how fast you are going or when you will need to visit the gas station. The dashboard lights of your Corolla are the system comprising several warning signs. These lights will blow up when there is something wrong in your vehicle. Thus, these lights play an important role to warn you about problems. So, every vehicle owner should be well aware about the warning signs and meaning of lights on dashboard. There is no doubt that these lights are a great help in our day-to-day lives. Dashboard lights are integral aspect of safe driving.
Various lights on your Corolla dashboard indicate the different functions of your vehicle. The purpose of these lights is to let you know when something is wrong in your car. Thus, they help us to know about the problem and fix it as soon as possible. Some lights let you know about the part of your vehicle that needs servicing or some are just reminders. There are some lights on your dashboard that provide you with the warnings about the auto part which may be tearing up.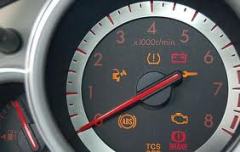 Door ajar warning, seat belt light and airbag lights are the basic reminder lights. All these lights let you know about improperly closed door, unbuckled seat belt or turning on of airbag. On the other hand, if parking light is turned on, then it may be a reminder or is an indication that parking brake of your vehicle is still engaged. Both of above types of lights do not need any work to be done to your corolla. The lights which involve engine are more important. In general each car typically has a light for each auto part including transmission, engine, brakes and many more. All auto parts have lights that alert you when there is a problem with your vehicle.
Dashboard lights simple give you warnings and are meant to keep you safe. It is surely unimaginable to drive your vehicle without these lights. Not only do the dashboard lights keep vehicle drivers and occupants safe, but also make the drivers to obey the laws.
Meanings of dashboard maintenance lights on your Corolla

Check Engine Light- this can be an indication of engine problem. Though you do not notice any prominent difference in performance, it is advised to get your vehicle checked from the expert. This can cost about $65-$75. In case of severe problem, you will notice low power mode. In such case you should consult your mechanic immediately.

Air Bag Light- if you notice this light turned on, then you should check out air bags. You can drive your vehicle by ignoring the lights. However, it can be dangerous as air bags play important role in case of collision.
Battery Charge Light- this indicates that alternator is not charging. You can drive your vehicle in this case. However, you should turn off any unnecessary electrical devices like defroster, heater or radio etc. this will start engine easily. Consult your mechanic as soon as possible to avoid getting stranded on road. Keep in mind that if alternator is not charging, then car battery may lose charge and your vehicle may stop functioning.
Emissions Lights -These lights may warn you about the problems associated with emissions sensor. Check your sensors. Do not ignore the problem as it can decrease gas mileage.
Dashboard lights tell you about your car problems. Instead of ignoring them try to resolve the problem as soon as possible.