Posted:
Grille Guards & Bull Bars - What's the Difference? - Vol.71
Are you a proud owner of a truck or SUV? Have you heard about brush guards, grille guards, bull bars or push guards? What all these terms actually mean? Are they one and same? What is the difference between them? Well, all these things offer muscular and mighty looks to your vehicle. Besides aesthetic features, it toughens up your vehicle. Nowadays, various well known brands offer wide range of guards to add a little extra protection to the front side of your vehicle. Besides this, all these bars and grills can add style to your vehicle.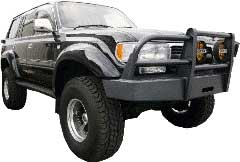 Grill guard or bull bar is the smart way to accessorize your vehicle. With these cool accessories you can protect your vehicle in a stylish way. Various reputed and reliable manufacturers offer grill guard that are crafted using high quality stainless steel. Further, you can get wide range of options to choose from black powder coated finish to mirror polished finish. In addition, it is possible to get durable grill guards that will protect your vehicle in its long run. Most bull bars and grille guards implement bolt-on installation. Thus, it is very easy and time saving to fit in the accessory. It takes hardly 30 minutes to affix grille guard. Brush guards, grille guards and bull bars improve the comfort with added front end protection for your vehicle.
If you own a SUV or truck and need to have its share in trenches, then it is advised to equip it with bull bars. By using custom fit, provocative bull bar installed on the front of vehicle, you can enjoy safe and comfortable ride of your vehicle. It offers the best protection whereas black powder or shining chrome adds the aesthetic values. It looks very trendy. With these specially designed accessories, you will not need to worry about level of security.
With a push bar mounted on your uprights, your transformation will take effect. This accessory will not only add aesthetic values but also enhance protection level. With this sturdy accessory, your vehicle is not at all prone to front damages. Rather, it becomes sturdy with undoubtedly fashionable and sturdy accessories. Further, there is no need to spend money for mechanic as you can fit these easy to install accessories on your own. All you need is to affix the crossbars. If you want to be more attentive, then you can go for brush guard's slither, which are installed around the headlights. It will let you enjoy further security. This accessory will prevent debris and sediment before it is too late.
Grille Guards offer the shield against errant debris right in its tracks. You can get ultra-stylish accessory that can be fitted easily and quickly to your vehicle. With these easy to install accessory, you can enhance your safety with stylish looks. If you intend to add a fistful of strength to your SUV or truck, then you should buy one that suits your needs, budget and style.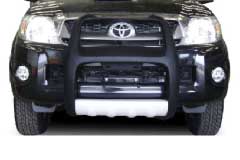 There is no difference between grille guards and brush guards. Grille guard protects grille scratches and paint while driving high brush. So it is named as brush guard.
so, what are you waiting for? Start your quest for the best accessories to add security level to your vehicle. Get ready to enjoy safe and comfy ride with all these stylish accessories now.