Posted:
How Fast Can a Car Go? - Vol.426
Some people might get goosebumps at the thought of storming down a highway at great speeds. But unless you live in Germany, this is neither legal nor advisable. In any event, most production cars are not capable of reaching lightning speeds.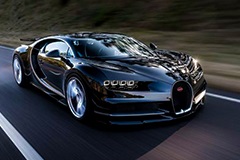 You can of course spend a few thousand dollars in an effort to turn your reasonably priced hatchback into a road racer. But even after the overhaul, you'll struggle to find a road safe enough to push your car to its limits.
The top practical speed of a car depends on several factors. This write-up gives you some insights into this and the different aspects that influence it.
The Fastest Production Car
First of all, you need to be precise about the car type you have in mind. There are a bunch of custom or concept cars that can achieve mindboggling speeds, but they are not street legal. For the purpose at hand, the scope is limited to production models that you can purchase and immediately hit the streets with.
As of 2017, the Koenigsegg Agera RS is the fastest production car in the world. The Agera RS features a 5000cc twin-turbo V8 engine which delivers an amazing 1341 bhp to move the car at up to 277.87 mph. However, the production run was limited to only 25 so the regular folks are not very likely to get their hands on one.
On the other hand, the production cars that are in most people's reach top out at about 155 mph. This limit was introduced as a common safety standard since it is quite dangerous to drive beyond 155 mph unless you have special training. There are, of course, shops that can remove the speed limits on your car, but you may want to think carefully about the benefits and downsides of modifying your car in this fashion.
What Influences Car Speed?
There are several factors that determine the speed of cars. These factors are universal.
Air Resistance
Air resistance is the number one enemy of speed. The reason for this boils down to physics. Air molecules actively try to retain their initial position, so no matter how hard you try to run over them with your supercar, they will always spring back in place, which creates turbulence. Your car's engine would have to expend horsepowers to overcome the resistance, and that's where all the research into aerodynamics is all about ? to minimize air friction and turbulence.
Power and Electronic Limitation
As previously hinted, the top speed of production cars is regulated. However, the limitation in Japan is even more severe than average at 112 mph. This is usually an electronic speed limiter that prevents your car from reaching the full engine potential.
Power limitation, on the other hand, is the mechanical limit on the top speed of your car. If your car isn't limited by its engine, there would be an electronic speed limiter on your car's horses.
Legal Speed Limits
For now, the only road without any speed limit is the German Autobahn. But it has frequently been the unsightly scene of 200 mph crashes and high-speed stunts went awry.
For the rest of the world and other German roads, the speed limits range between 45 and 85 mph.
The Last Gear
Some cars can go very fast but the place where you can really step on the pedal is a completely different matter. In addition, pushing your car to its limits is outright dangerous, especially if you have little experience at these speeds.
But if you have gasoline running through your veins, enjoy some weekend racing and put your vehicle through its paces on a proper track.