Posted:
Differences between Welfare Vehicles and Normal Vehicles - Vol.423
The difference between a welfare vehicle and a normal vehicle might not be apparent right off the bat - unless you know what you are looking for. Welfare vehicles offer more features and increased functionality, and they are usually used for commercial purposes.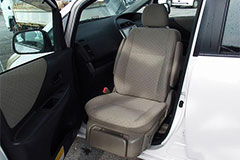 While most welfare vehicles are based on normal vehicles, they come with a number of upgrades that make them special. What's more, the upgrades need to follow a set of strict regulations to ensure maximum safety and protection.
This is why it pays to take a closer look at the different applications and standards of welfare vehicles.
What is a Welfare Vehicle?
In general, a welfare vehicle is usually a van which has been completely overhauled to accommodate different workforce needs. It is used in highly demanding work environments like construction sites, highway and rail maintenance, and utilities.
A welfare vehicle is equipped with amenities which allow workers to have a comfortable and safe place while at the worksite. Depending on the industry and the standards, welfare vehicles include a number of add-ons which are not found in normal vehicles.
Special Welfare Vehicle Features
Unlike stock models, those that have been converted for welfare purposes need to adhere to a special set of safety standards. For example, European welfare vehicles often come with up to eight M1 seats. These seats have undergone rigorous crash tests and exceed the proposed safety regulations to deliver maximum worker protection.
In addition, these vehicles usually feature reinforced floors and side panels for improved structural rigidity and durability. There is also an independent heating system front and back. However, this is one of the features that welfare vans share with some stock models. Other things that the two may have in common are fire extinguishers and first aid kits.
It is worth remembering that these vehicles are designed to cater to the needs of workers who face adverse outdoor conditions. This is why welfare vehicles usually incorporate a hot water facility and a separate hot and cold unit for washing hands. Besides the water facilities, they come with a unisex toilet cubicle which has an eye-wash station.
Since the workers wouldn't want to go hungry on the job, one of the most highly sought-after features is a separate cooking section. The section often incorporates a microwave, a compact electric cooker, and a separate sink. Welfare vehicles don't lack storage compartments either.
The number, size, and type of storage compartments may vary from one welfare vehicle to another. Usually, these are robust compartments for storing gear. What's more, some top-of-the-line models include a drying room and special storage for wet clothes.
How to Get a Welfare Vehicle
There are two different ways to get a welfare vehicle - you can either lease one or have it built. If you go with the leasing option, there are companies that offer an excellent fleet of welfare vehicles to choose from.
They cover a wide variety of industries and you might even get a bargain on an extended business lease. Another great thing about leasing or renting is that the rental company usually covers the maintenance and repair costs. This is ideal for short to medium-term projects, especially in the construction business.
Having a welfare vehicle built is not as cost-effective. However, you get the benefit of a fully custom van that is perfectly suited to your business. You can choose each individual feature and add more per the demand of your business.
Conclusion
The main difference between normal and welfare vehicles is in their intended purpose. The general public and small businesses can simply enjoy the benefits of stock vans without the extra features of welfare vehicles.
On the other hand, a welfare vehicle at a construction site can be a true life-saver, especially when the outside conditions are harsh.