Posted:
What is a Turbo (Turbocharger)? - Vol.430
Turbochargers sound fast. It's in the name, right? But power may not be the only thing turbochargers bring to the table.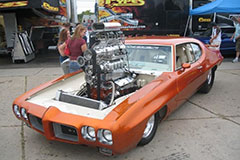 Driving a turbocharged car used to be on many car aficionados' wish lists. But car manufacturers have put them in more models, sometimes as a trick to save on import taxes - since a turbocharger can make a small engine more powerful, they can pay less on import taxes, as most countries charge by engine size, without affecting the car's performance.
Is turbo really that big of a deal? It can be. Keep reading to find out what a turbocharger is and some tips to get the most out of yours.
What is a Turbocharger?
The internal combustion engine is a miraculous thing. It allows you to travel in the air and on land at speeds that are simply - unnatural. But humans always strive to make things better. And the turbocharger is a result of tweaking the standard engine.
To simplify it, a turbocharger makes use of the hot waste exhaust from the back of the engine. After combustion, the exhaust is full of heat energy. A turbocharger uses the exhaust to spin an impeller, which is hooked up to a contraption that forces more air into the engine, adding to the naturally aspirated air coming from the ambient and out of the car's air compressor
The extra power comes from the higher air flow into the engine. An engine is programmed to inject a certain amount of fuel into the cylinders based on the air intake. Therefore, if there's more air, it'll also inject more fuel, and voila - a more violent combustion and higher power!
Turbocharger Pros:
- More output from the same engine size
- May give better fuel economy
- May produce less air pollution
Cons:
- Maintenance can be expensive
- Actual fuel economy may vary
- Driving with one can be tricky
Driving Tips with a Turbocharger
If your vehicle has a turbocharger, there are a few things you should know about driving one. You may have decades of driving experience under your belt, but turbochargers may change your habits a little. Check out these tips to get the most out of your turbocharger:
1. Don't drive your car hard until it's up to operating temperature
It ensures that oil is flowing freely for optimal protection of the hotter turbocharged engine.
2. Let your engine cool down before shutting it off
When you turn off your engine immediately after running it hard, you may get oil trapped in hot areas of the engine. That may lead to blockages and faster wear and tear.
3. Don't lug your engine at low RPMs
Lastly, try not to lug your engine when it's at low RPMs. This means that if your RPM is very low, don't try to floor it for more power and speed. There are 3 reasons why this isn't a good idea:
o Gearing disadvantage - downshift for more torque and power
o Injecting more fuel but not being able to take in more air - may lead to more emissions and damage exhaust system
o Can damage your engine
There are more tips available online if you're interested in knowing more about driving a turbocharged engine. Maximize your engine life. Get to know them before you get into your car again.
Final Thought
The turbocharger is a clever tweak on the standard car engine. But it may take a little bit of practice and a lot of homework to get the most out of it. That may be a small price to pay, though, for the extra power that you get from a smaller engine.