Posted:
Accessible - Change your life with Pickup Truck - Vol.40
There's nothing like simply being able to come and go whenever you please or get that sensation of hitting the free road without having to ask for someone to drive you.

Driving even with a disability has been made possible but until now, there are still some challenges to overcome. Accessible vehicles are quite pricey and customizing your current vehicle to cater to your accessibility needs may even be more expensive. To be able to drive, some creativity to modify the vehicle was required of the driver for years as companies specializing vehicles with accessibility issues weren't established.
These days, there are now several different companies aiming to help you get the necessary funds to purchase an accessible vehicle and aid you in searching for the right customization for the vehicle. One of the advantages of having so many companies to choose from is that you have a lot of options. You are no longer required to buy your vehicle or adaptive equipment from a single company. You don't even have to mesh something together all on your own so that you can drive your car.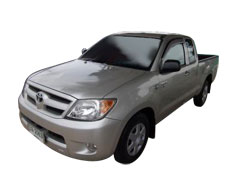 Essentially, it all boils down to buying the right accessible vehicle. Companies such as Ford Mobility Motoring provide financial assistance for those with disabilities. You can get help to finance the cost of installing accessibility equipments for a Lincoln, Mercury or even a Ford pickup. There are other companies offering such options as well.
If you're tired of driving the same old van, you can stop and switch to another vehicle. Vehicles such as the Scion XB, PT Cruiser and Honda Element are good examples of SUV types you can use. You can even fit virtually any type of vehicle with hand controls and other devices to give you the accessibility you need. It also depends on the size and type of your wheelchair as well as your style.
Pickups are also great vehicles for disabled drivers. They look cooler too as you roll down the street. It's best that you go for the larger sized pickups such as the 2003 Chevy Silverado 2500 HD. If the pickup is large enough, you have more room to move inside the vehicle. These types can be quite tall and so you would need the use of a lift. Get the pickup installed with a boom type where the lift is mounted at the back. There are also some lifts that are mounted at the side of the vehicle for quick access to the steering wheel. You can also have the doors of the pickup open in full to easily accommodate you and your chair. Hand and remote controls are quite important for the whole process of loading you up into the vehicle. It'd also be good if you can get the pickup with lowered floors for more headroom.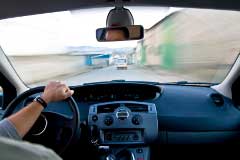 Other good examples of pickup trucks that can be converted for disabled drivers are Dodge, Ford, Nissan, GM and Toyota. TAS Seating would be a nice addition as well with in-bed wheelchair lift. You can also put a Slidelock to keep your wheelchair in place as you drive. You wouldn't want to be wheeling around with every movement when driving. You must also make sure that your accessible pickup truck meets the OEM Mobility Program.