Posted:
Fuel Consumption of MT Cars & AT Cars? - Vol.102
Manual transmission versus the Automatic transmission, step aside CVT - this is the clash of the titans. Whenever you decided to buy a new car, there is always a wise man advising you to buy a manual. The reasons being; a) manual offers a more enjoyable ride and control for driving enthusiasts, b) manual offers a better fuel economy.
While the 'fundamentalists' still believe that manual offers more mpg, 'modernists' insist that this claim is now outdated. The rest of us are, well, confused. In order to get better idea of the truth, we actually need to understand the basic differences that set each of these trannies apart. We also need to take into account the development and changes both manual and automatic have gone through over the years.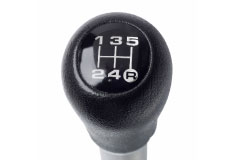 The Inherit Advantages of MT
Manual transmissions are inherently more fuel-efficient that the automatic due to their mechanical efficiency. The very first reason is the ability to shift quicker and with better ratio. Perfect timing of shifts helps save a considerable amount of gas. When automatics were first introduced, manual transmission was available up to seven and eight gears. Automatic, however, only had three or lesser gears. Due to this reason, there was a huge loss of power between the shifts.

Moreover, in manual there is a rigid clutch which is replaced by a torque converter in an automatic transmission. Now, if you know how the torque converter actually works, you must be aware of its power bleeding capacities. The result is higher fuel consumption due to wastage of engine power. In contrast to this, the rigid clutch of MT helps it transfer nearly 99% of torque that goes in.

Other than the torque convertor, another place where automatic will rob your engine power for nothing is the high pressure hydraulic pumps. Automatic transmission really is a complex piece of equipment. It uses high pressure hydraulic pumps to pump the ATF in order to shift gears. These pumps will drain a good amount of power from your engine. As a result, you lose some precious MPG. Another advantage of manual transmission is a longer final drive ratio which allows the engine to rev. Also, manual transmission is lighter in weight as compared to the automatic. Decreasing the overall weight of the car, it relieves your vehicle from extra burden and, in turn, extra fuel consumption.

The Problem - The major problem with manual, however, is that its proficiency and capability depends greatly on driver's intention, habits and skills as well as the driving conditions and terrain. This is the reason; most drivers are not able to churn out proper fuel-economy benefits out of their manual cars.
How AT Is Catching Up?
Initially, AT was despised due to its lack of gears and enormous fuel consumption figures. However, technically, it was amazing. It offers the ease of drive that MT can never offer. So, the industry started to concentrate on eliminating its flaws. Today, automatic transmissions can have as many as eight gears. Due to the increased number of gears, the shift ratio has also improved substantially. As a result, there is now less power loss and mileage has dramatically improved.

Modern cars offer AT with a mechanical clutch which is used to lock-up torque in a more fuel efficient manner. With this clutch, the previously infamous torque convertor can also achieve an efficiency level closer to that of manual transmission.

Many new cars offered in both standard and automatic have only a negligible difference in their AT and MT fuel consumption figures. As manual depends greatly on the driver, most people would not be able to hit the perfect mpg stated by the manufacturers. For automatic consumers, however, the figure will remain close to the official ones despite the proficiency of the driver.
Conclusion
If you are buying an older car, there is no doubt in the fact that manual will help you save more on gas. Yet, for newer cars you must check out the difference between the mileages of both the offerings.