Posted:
Best Japanese Car Auctions Houses you should keep an eye - Vol.454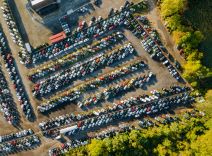 Best Japanese Car Auctions Houses you should keep an eye
Japan is one of the largest car manufacturing places. All the top-class car manufacturers have sold vehicles in Japan and over 100.000 cars are sold at the auctions every day. There are over 100 auction houses located all over Japan to offer you the best prices. Japan export used vehicles worldwide and most of the vehicles are coming from them.
Every auction house has a car checking inspector, who is in charge to checks the vehicle and writes down the condition of the vehicle and gives a different grade to the car according to its condition.
Japan is allow used car exporters you can import and know about them checking the auction sheet grades like S use for a brand new car with zero mileage and 3, 4, 5, 6, 7, grade its depend on the condition of the car. This is a topic for another opportunity as well as how the car auction system works. However, today we would like to focus on the best auctions houses you should keep an eye on to get the better bang for your buck.
AUCNET Auctions
The name of AUCNET is derived from two words Auction and Network. There is no physical location of this auction house but they are famous as the best-used car exporters in the world as the company has a large circle of dealers and it works in close relation to Picknbuy24.com so you would get a great deal on your dream car.
USS Auction
USS auction is famous in the auto market as the best grade used car provider. This auction house covers 30% Japanese used car market. The company provides its vehicles all over the world. Getting a large selection of sports vehicles and you can see them on our live online auction site today.
TAA Auction
TAA stands for Toyota Auto Auction and it is one of the oldest auction houses in Japan. TAA is known as the best and top-class Auction house in Japan. TAA opens all the days for biding except Sunday.
ARAI Auction House
ARAI Auction Group is also known as AAA auction house. ARAI auction house has 33 years of used Japanese cars experience in Japan. The company has a large sale circle every week ARAI auction house almost sold more than 10,000 units. The company deals with all types of cars from Japan.
JAA Auction House
JAA is standing for Japanese Automobile Auction. The business platform of JAA is not very large. They are including in the medium-size business. Every month JAA almost sold 45,000 above vehicles. JAA is famous in the Japanese auto market as a provider of good quality vehicles.
BAYAUC Auction House
BAYAUC is well known by the Japanese auction world for having one of the best quality on used vehicles because the company has higher requirements on checking grades in comparison with other houses.
CAA Auction House
Chubu Auto Auction is known as CAA in japan. CAA is one of the largest used car dealers in Japan. The company has strict rules and never deals with low-quality cars.
ASNET Auction House
ASNET is a company that deals at the highest level.it has over has 100,000 above cars in the auction house for sale. So don't miss the best deal you can have.
Finally, Honda Auto Auction House
Honda Auto Auction provides also high-quality vehicles to its customers. The company has a strong relation its quality and fast service system.
To learn more about the auction contact us on our new site