Posted:
Best way to buy used cars - Vol.453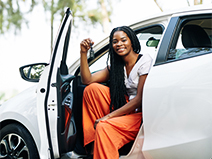 Best way to buy used cars
Nowadays, t's hard for people to find new or used cars at good prices. The cost of additional features; can increase the price of even the cheapest models or trim and it can set an average person back for many years. This would take into consideration the interest rate on loans can make it harder for repayment.
So, if you are on a budget and you are looking to buy a second-hand car. You would have 3 options from our point of view.
The first option is Car Dealers. They can offer a large inventory of used cars in good condition and provide you finance lower interest rates. Most pre-owned cars car can be tested and in some cases are certified pre-owned cars that can look new. However, they are usually priced higher than Japanese import cars and some damage can be hidden from you in some cases.
The second option is going to be sourcing a used car from a private seller. This can be a great opportunity car can be test drives as well and examine deeply in comparison with dealers and a more honest deal can be done in some cases. However, the car has no warranty and the conditions to be checked by a professional mechanic might cost extra. On the other hand, Japanese cars get check twice when it bought from the dealer and before they leave Japan.
Finally, the Japanese import route is a great option; if you are looking second hand-cars. This vehicle is fully checked for mechanics for free before been posted. You can buy a variety of cars on stock no only from https://www.picknbuy24.com/ but also from all the cars present on their internetwork with the dealership and even in some cases even if we don`t have in stock we can move to the Japanese auction giving clients access to millions of cars a day.
However, we believe if you are on the shopping for a used car this is the best alternative as you can get the car better conditions than many local cars on many cases and been checked by professionals for free to ensure to the clients that the vehicles are in great conditions before leaving japan.
This approach can be observed in the ports around that world, where many used cars arrive every day and small businesses are creating importing giving to clients the benefits of buying cheap used and pre-owned cars for sale on great prices and in many designs and colors, hatchback or sedan, SUV, Vans, etc. can be available in just a few clicks and for those fascinated a luxury car can get it in some cases even half price than what I would normally cost in their country.