Posted:
Holden - An Australian Automobile Manufacturer - Vol.246
When people think of quality car manufacturers the country of Australia rarely seems to figure into the equation, especially when there are so many established American, European and Japanese companies vying for supremacy in the field. This mind-set does something of a disservice to the country and, in particular, GM Holden Ltd. Holden is perhaps the most firmly established auto manufacturers down under and it has a history to back up its credentials.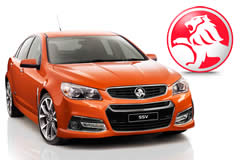 History
The company was first established in 1856 and initially made saddled before moving into the brand new automotive field in 1908 in an effort to capitalize on the new-found popularity of cars. This change in business focus came about as a result of Edward Holden, who was the grandson of the company's founder, eventually entering the family business and bringing with him an interest in automobiles.
From there the company's evolution into a full-blown auto manufacturer was fairly slow. They initially started out offering car upholstery repair for the new wave of vehicles that were slowly entering in the market and, from this humble origin, began to expand until they specialized in the creation of full vehicle body shells, working closely with Ford Australia for a period of time.
It was not until 1924 that Holden formed the partnership that would go on to inform much of the future of the company. They became the exclusive manufacturer of body parts for General Motors, creating bodies that would be suited to a wide array of chassis that came over from the American manufacturer. Unfortunately for the company their fortunes took something of a downturn during World War 2 and they ended up being purchased by General Motors as a result.
Working with General Motors and other partners
The company's working relationship with General Motors has continued to expand over the years, to the point where they are now responsible for all of the company's operations throughout the continent.
However the company isn't simply an outlet for GM and their vehicles and has instead become a trusted partner of a huge range of other international manufacturers who wish to introduce their vehicles into the Australian market. In addition to GM the company has also worked with the likes of Nissan, Suzuki and Vauxhall to manufacture and introduce their particular brands of vehicle to Australia.
Domestic production
In addition to their work with such a broad array of partners, Holden have also manufactures a number of vehicles of their own accord, including the likes of the Commodore, Ute and the Caprice. Their vehicles are generally characterized by a large body frame and have been exported to a number of countries under a variety of different names and badges.
While never achieving the level of international popularity that they perhaps deserve, cars carrying the Holden badge will generally provide a very interesting ride and are certainly an experience for car enthusiasts who are a little curious about the way things are done in Australia.
Competition
As is somewhat customary for large vehicle manufacturers, Holden has maintained quite an impressive presence on the competitive end of the scale as well as its usual offerings. In fact, the company has been involved in touring car racing in its native country since the late 1960s and vehicles created by the company have an absolutely stellar record in the famed Bathurst 1000, having come out on top an astonishing 29 times and establishing a record in the process.
While certainly not the biggest name in the automobile industry, Holden certainly offers something a little bit different to importers. With over a century of history and experience behind them the company has crafted some extremely interesting cars that are definitely worth a look for any collector.