Posted:
Do You Know the Alias Names of Mazda Cars? - Vol.264
Thinking about buying a Mazda? Well, then you should know the alias names the Japanese automobile manufacturer has given to its cars, else you may be confused. What's the difference between Mazda2 and Mazda Demion? What about Mazda Premacy and Mazda5? It's just the name really. Let's take a look at the most important models offered by Mazda and discover their alias names.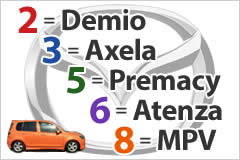 Mazda2 or Mazda Demio
The Mazda2, which is also known as the Mazda Demio, is a supermini originally launched in 1996. It has a 1.5-liter, 100-horsepower, four-cylinder engine, and a 4-speed automatic or 5-speed manual transmission. In 2008, the third generation Demio won the 2008 World Car of the Year Award, while the current fourth generation claimed the 2014-2015 Car of the Year Award, making it one of the most popular and well-received Mazda cars.
Mazda3 or Mazda Axela
A compact car available as a 4-door sedan as well as a 5-door hatchback, the Mazda3 (or Mazda Axela as it has been marketed in Japan) was released in 2003. Two other generations have been release since, one in 2010 and one in 2014. Starting from the 2012 model onward, the Mazda3 features a new direct injection engine and a 6-speed transmission.
Mazda5 or Mazda Premacy
Mazda 5 or Mazda Premacy is a compact multi-purpose vehicle (MPV) that was first manufactured in Japan in 1999 as a two- or three-row vehicle accommodating up to six passengers (American version) or seven passenger (other regions version). Some distinguishing features include fold-flat rear seats and a near-flat floor. These features were preserved in the second generation. It's interesting to note that the Mazda5 has been re-badged as a Ford vehicle.
Mazda6 or Mazda Atenza
A mid-size car available with a front-wheel as well as a four-wheel drive, Mazda Atenza was first introduced in 2002 as a replacement for the enduring Mazda Capella (or Mazda 626 as it was known outside of Japan). Since it is based on the same G platform as the Mazda Capella, it can be regarded as the fourth generation of the latter. At the time of its launch, the Mazda6 was quite a hit thanks to its stylish and spirited design and good performance ? the car went on to sell one million units faster than any other car previously released by Mazda.
Mazda8 or Mazda MPV
Belonging to the minivan class, the Mazda MPV (multi-purpose vehicle) also known as Mazda8, initially hit the market in 1989 with a standard real-wheel-drive as well as an optional four-wheel drive. The model proved to be enduring, selling over one million units. In 2000, Mazda released a new version of the Mazda8, which replaced the four-wheel drive with a front-wheel-drive-only option.
Which to Buy
Now that you know the alias names of the most important Mazda cars, it should be a little easier for you to choose which to model to buy. If you want a supermini that has been named the best car in the world, go for Mazda2 (Demio). If you want a 4-seat sedan with a six-speed transmission, go for the Mazda3 (Axela). If you want a multi-purpose vehicle, you can choose between the compact Mazda5 (Premacy) and the minivan Mazda8 (MPV). If you want something faster and more stylish, then you can't go wrong if you choose Mazda6 (Atenza), the predecessor to the Mazda Capella.
Bottom Line
To avoid further confusion when shopping for Mazda cars, it's good to remember that in general, Mazda gives them one name in Japan, and then assigns them a number in other markets. At any rate, you should not let the jumble of names and numbers confuse you; double-check before buying.