Posted:
How to Modify Your Car Interior Without Breaking the Bank - Vol.261
Although the interior of the car is the place where drivers spend most of their time, it doesn't always receive the attention it deserves ? most drivers prefer to focus instead on the exterior. But it's the interior that you see and use almost every day; modifying and improving it will improve your driving experience and make you enjoy every second you spend in your car. It's something you will especially want to do after you buy a used car, to mask any wear and tear signs and make it more exciting.
You don't need a lot of money to modify your car interior, nor do you have to invest too much of your time in the work. Regardless of your budget, there are many improvements you can bring to your car interior without too much hassle. The tips below will inspire you to get started right away.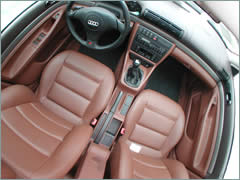 - Change the color of the seats
Don't worry, you don't have to change the seats -- just replace the old seat covers. Whether you have leather seats or fabric seats, you have plenty of options to choose from when it comes to seat covers. You can buy them from your local car accessories shop, or even order them online.
Car seat covers can be installed in a matter of minutes and give the interior of your car a fresh new look. When choosing the color of your new seat covers, make sure it matches the other colors in the interior. And while you're changing the seat covers, you may also want to consider buying some comfortable seat cushions.
- Enhance your steering wheel with a cover
Steering wheel covers slip onto the steering wheel, enhancing its look and making it feel more comfortable in your hands when you drive. Steering wheel covers, like floor mats and seat covers, are available in many different varieties. Leather options are especially nice.
- Change the floor mats
Rather than cleaning up old floor mats, shop for new ones. Rubber floor mats are inexpensive and easy to maintain. In addition to protecting the car's floor, they can also hide any worn out spots in it. Rubber floor mats are available in many different styles, so it's not hard to match them with your seats and the rest of the interior. New rubber floor mats will make your car look cleaner.
- Upgrade the stereo system
Stuck with an audio cassette player or an old CD player? Replace it with a new touchscreen with Bluetooth and MP3 compatibility and add some amplifiers and woofers as well. Also, it's a good idea to get a micro-USB slot installed so you can plug into it your portable music player or smartphone. You will find plenty of affordable car audio systems on the market, most of which you can install yourself.
- Make other improvements
There are many other additional improvements you can bring to the interior of your car. You can install sun films on the windshields and the side windows, not only to block UV rays but also to make your car look cooler, replace your old, worn-out pedals and gear knobs with new ones, and install a new headliner.
Bottom Line
Whether you feel that your car is getting old, or have recently purchased a used car whose appearance you'd like to enhance, modifying your car's interior is a great idea. It will improve your driving experience and make your old car feel like new. Your passengers will love it, too. Let the tips above inspire you to give your car interior the fresh new look it deserves. Get started now!