Posted:
Understanding the 'OEM' In the Automobile Industry - Vol.258
In the automobile industry, replacement parts that carry the OEM label are made by an Original Equipment Manufacturer (OEM). In other words, they are produced by the same manufacturer that made the original part which came with the vehicle. By contrast, spare parts that provide essentially the same functionality or are of the same kind but have been made by other manufacturers are known as non-OEM parts or after-market parts. It should be noted, however, that most cars sold today feature parts which are made by companies other than the company behind the car logo; this creates a situation in which some companies sell OEM parts that they have not actually manufactured themselves.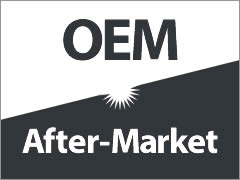 In the past, the adjective OEM was used to describe those companies which produced parts that were then marketed under another company's logo. This definition is still true in today's automotive industry. However, in recent years, and especially since the advent of the Internet, many OEMs have begun to sell their products to other resellers as well, and even to consumers directly.
OEM Versus Non-OEM
The difference between OEM parts and after-market parts can be significant. OEM parts meet the original standards and product specifications of the original parts they replace. Let's take an example: Tom has been the owner of a BMW car for several years now, but recently the service guy told him that the steering box is broken and can't be fixed. It has to be replaced. Tom has two options: buy an after-market steering box, or buy an OEM steering box.
The two different items may look similar and fulfill the same function, but while the after-market steering box offers the same functionality as the original, the OEM steering box is EXACTLY like the original in terms of design, functionality, and performance because it has been made by the SAME manufacturer. Nine times out of ten, OEM car parts work better and fit better than after-market parts.
Why then do after-market exist at all? Because they are often cheaper than OEM parts, being made by smaller companies which may design them so that they can be used not just on a specific car model, but on several models from the same car manufacturer, and sometimes even on different models from different manufacturers.
After-Market Parts are Usually Cheaper
In many countries, after-market spare parts are much cheaper and more readily available than OEM spare parts. But this shouldn't discourage you from searching for OEM spare parts for your car. Today, the Internet makes it a lot easier for any car owner to find the right OEM spare parts for his or her car and buy them online even if no local dealer offers them ? they can be shipped from abroad for a reasonable shipping fee.
That's not to say, however, that after-market spare parts should be avoided. Most of the time they work well, proving to be good replacements for broken or malfunctioning original parts. If you're on a tight budget, after-market parts may be your only option; it's certainly better to use after-market spare parts than to leave your car to rust in your garage.
A Warning
When shopping for replacement parts, you have to be aware of a trick that many after-market manufacturers use: the parts they sell have a big OEM label on them, followed by a small qualifier such as 'meets OEM standards' which is often hard to see at first. Spare parts with that label are not OEM parts! It only means that they have been manufactured to the same specifications as OEM parts.
So be careful to make this distinction, and be especially on guard if a part labeled as OEM appears to be unusually cheap. Unless you've stumbled upon a sale or some promotion, chances are it's not truly OEM. OEM car parts always come with certifications that prove their authenticity.