Posted:
TOYOTA NOAH VS TOYOTA VOXY - Vol.166
First released in 2001, the Toyota Noah is an 8-seater multi-purpose vehicle hosting two sliding doors in the rear. It is manufactured by Toyota and traded in Asia only. It was preceded by the Toyota LiteAce Noah. A twin model, the Toyota Voxy, was also manufactured by Toyota and featured a lesser ground remittance.

The Toyota Noah hosts a 154hp engine and takes approximately 9.8 seconds to reach a speed of 100km/h (60mph). It can reach a maximum speed of up to 175 km/h. It is also a generally smoother vehicle to drive than the initial release Noah, and features an improved handling ability.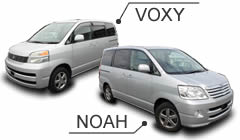 The modern design of the Toyota Noah was presented in 2007. This model features a 2.0L fuel injection engine and is available as a front wheel drive or four wheel drive.
Toyota Adjusts Its Style
In 2010 Toyota proclaimed the release of the new Toyota Noah and Toyota Voxy. The Voxy was fully revitalised and traded by "Netz" auto dealers, whereas the Noah was traded by "Toyota Corolla".
Both the Noah and the Voxy were redesigned with extremely practical characteristics which labelled them as user-friendly to all drivers and passengers. Features included the folding of the third row seats at the touch of a button, as well as the second row seats with its long-slide multi-purpose revolving ability with an added child-minor seat modality.
Toyota Noah
The Noah was launched with its more or less conversant yet high calibre design. Its rear with its compounding tail lights that wrapped around its sides, created the comprehension of dimension. It further relayed a sense of stability with its quadrangle silhouette. The combination red tail lights emphasised the familiar design of the Noah.
Toyota Voxy
The Voxy hosted a cutting-edge and individual design. The front of the vehicle created a crisp surface that enhanced its appearance of a compact frame filled with immense power. Its measured head lights, a distinct characteristic of this automobile, expressed the elegance and individualisation of the Voxy.
Comfort and Simplicity
The Noah and Voxy both feature two rows of seats, which allows for sufficient packing space. The second row of seats are long-slide and multi-purpose revolving seats with an additional child-minor function. These seats are able to rotate at an angle of 60 degrees (passenger seat position) or 30 degrees (driver side position) and host a special design that aids in the buckling and unbuckling of small children into a feasible child control system. The middle seating place in the second row can fold up to enable a pass way from the front to the seats in the third row.
Advanced Characteristics
Both vehicles host an automated air conditioner host self-operating temperature activity control to the driver as well as the passenger side. It also features a clean-air flow and an additional pollen eliminator.
A special mirror makes it possible to view the rear seats and promotes interaction between passengers.
An Intelligent Parking Assistant program assists and sustains steering during parallel parking and while reversing into parking bays.
Both vehicles further hosts an HDD navigation program fitted out with innovative navigation characteristics such as Maps on Demand in order to update the system maps with up-to-date information.