Posted:
Deciphering the Meanings behind these Arcane Dashboard Symbols - Vol.334
While the mechanical type does develop a keen insight into what these lights and symbols across the dashboard truly mean, it is natural to be confused by some of the dashboard display indications and buttons found in cars today.

Newer cars are meant to run status checks and alert operators to the presence of a wide array of issues and conditions from a low pressure in the tires or an engine that is overheating.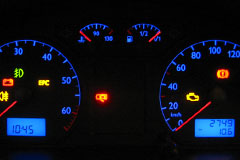 While some symbols are certainly more serious than others, knowing exactly what each symbol means and how to best employ or address the function or situation being indicated will greatly improve the driving experience and prolong the life of your vehicle.

Cars made in foreign countries and special manufacturers typically have a symbol or two that you won't find in other brands of car. Referring to the user manual of your car is the best way to use these indicators to maximum efficiency. Remember that paying attention to all indications received from the car will keep it running safely.

If a symbol persists or you are not sure if you have the capacity or resources to address the situation being indicated, it may be best to have your vehicle's conditions reviewed by an automotive professional.
1. ENGINE TEMPERATURE WARNING LIGHT
Symbol - a thermometer set in some wavy lines. Often this symbol is red indicating something is getting Hot.

Meaning - something is getting hot. If the engine is overheating, the radiator is the first place to look. Have you added coolant?
2. TIRE PRESSURE WARNING LIGHT
Symbol - an exclamation point set in a cutaway view of a tire. What could be the content of the tire giving an issue?

Meaning - air pressure inside on or more of your car's tires is getting low enough to trigger a signal. Make sure you know the best pressure for your car before adding more air.
3. OIL PRESSURE WARNING
Symbol - believe it or not that dripping magic lamp is what mechanics used to use to apply oil to the automobile.

Meaning - the oil pressure of your engine is getting too low. Oil keeps the whole mechanism running smoothly without metal grinding on metal. Avoid this problem by checking your oil before driving.
5. ENGINE WARNING
Symbol - it looks like a Yellow Submarine, but it is actually the rough shape of an average car engine.

Meaning - this indicator can go off for a number of reasons related to the engine, it would be best if you had this one handled by an expert. Refer to your user's manual for more information.
6. ANTI-LOCK BRAKE WARNING
Symbol - "ABS" set in a circle.

Meaning - ABS stands for Anti-Lock Brake System. If there is something wrong with the hydraulics of your braking system you will need to diagnose this with all haste.
7. SHIFT LOCK OR ENGINE START INDICATOR
Symbol - a show set in the middle of a circle. Indicating pressure needs to be applied with the foot

Meaning - this symbol indicates the brake needs to be engaged. This is necessary to start the car or take it out of neutral gear.
8. BATTERY ALERT
Symbol - a car battery complete with positive and negative terminals.

Meaning - the battery is losing power, if any more power is taken from the battery without it being allowed to recharge, it might not start up again.
9. FUEL INDICATOR SYMBOL
Symbol - one of those fuel pumps from the late century.

Meaning - you guessed it, without adding some fuel to your tank the engine on your vehicle will die. If you look closely some of these lights also indicate on which side of the car your gas cap is located, because we all know how hard that can be to remember.
10. FOG LAMP INDICATOR
Symbol - a headlight with some beams that seem to be obstructed by a curved line?c or possibly FOG?

Meaning - this symbol indicates your Fog Lights are currently activated.