Posted:
Priceless Tips Nobody Tells You About Owning a Used Luxury Car - Vol.327
Owning a used car is not just about having the limitless credit and boundless financial resources normally associated with the very rich and famous. For a financially savvy professional with the time and patience to locate a killer deal as well as the practical skills and mechanical savvy to get a good understanding of a vehicle's conditions - it is quite possible for a working class hero to get behind the wheels of a luxury vehicle.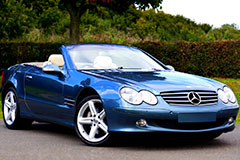 But for this small miracle to work well there will be some important factors that affect the final successful equation. Following is an abridged guide to driving a luxury vehicle for a fraction of the retail value charged by a commercial dealership.

Understand the Value of Luxury Deals
There is a big difference between having an appreciation for the worth of every penny, and being a cheapskate. Understanding this simple concept is the path that leads from rags to riches, a topic for another post. For now, learning how to get the best value for your money will widen your vehicular option margins to include some fine vehicles.

Depreciation is the name of the game and it works in the favor of the financially limited. While certain people who have the luxury of swimming in cash can afford to jump at the next shiny thing and the next as fashion dictates, they do a good job of lowering the value of last month's or year's models.

This means that a luxury car that will cost $80,000 at retail value can be found for half that price. A used car in non-running conditions could be bought for as low as $5000 and less. This is where your determination to get top dollar value for luxury will be tested.

A non-running vehicle doesn't sound like it's going to be much good to any consumer. But an acquisition like this is no common consumer purchase. This is proof that luxury can be obtained with an intelligent mind and some practical experience in getting a vehicle properly repaired.

The reasons a car is not operational will also be the reason that the car is not being sold at top value. This could be a simple or complex problem, but finding a luxury car with problems you can understand will give you the first the next step in realizing your luxurious dreams.

There are many qualified mechanics and non-dealership repair services with extensive experience in luxury automobiles and if you know where to go for the problem your luxury car has, you may find repair work won't even break the $1000 mark.

This will be another feat of intelligence, if you don't fully understand the problems with the car or what will be needed to restore the vehicle to full operation, you can find yourself swamped with costly repair issues and nothing but a costly paperweight to show for it.

2 Final Considerations on Getting a Luxury Car for a Bargain Price
Expensive Cars require Expensive Stuff - make no mistake about it, in the long run you will have to pay for a piece that needs to be adjusted, a fresh coat of paint or some other factory brand feature that the car will just not be luxurious without. This will come out quite costly so be sure you stay ahead of all maintenance and repair issues, so that you are not taken by surprise.

Enjoy the Luxury - it goes without saying, that an acquisition like this will be a pride and joy. Driving in a Porsche, Mercedes, or any other luxury car - even a 10-year-old vehicle - means soundproof windows, pristine climate control, seats and leather work of opulent comfort and an engine that will present no problem with proper care and maintenance.