Posted:
Top 10 Most Reliable Used Cars - Vol.240
Just about anyone that has ever owned a car can tell you finding a reliable car can save you a lot of time, stress, and money. When you buy a used car, you shouldn't have to worry about the car breaking down at any minute, or spending additional money getting the vehicle into safe driving condition. Buying from a reputable importer can play a major role, but the type of car you choose to buy can too. Some makes and models are just made up of quality parts and designs, and will last you a lot longer than other. Before putting the money down on a used car and worrying about the impending repair, check out these top 10 most reliable used cars you could buy.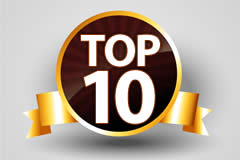 Toyota KLUGER (Highlander) (2008)
The 2008 model of the Toyota KLUGER features a much larger and spacious interior making it much more comfortable than previous models. KLUGERs are midsize SUV models, giving you a good mix of power and efficiency with a V6 engine putting out 350 horsepower.
Volvo S60 (2005)
Although not the most powerful car on the list with just 160 horsepower, the Volvo has been praised for its comfort and reliability. The 2005 Volvo S60 comes with a sport suspension and larger disc brakes than previous years, offering handling and maneuverability.
Honda Odyssey (2004-2010)
One of the most popular minivans on the road, the Honda Odyssey reliable, roomy, and all-around fantastic used car option. The Odyssey received excellent crash test rankings and the 2007 and 2008 models featured steering wheel telescopic movement and several other useful additions like a rear-end camera for backing up. This is not only a fun car to drive but also one that you won't have to worry about breaking down very often.
Mazda AXELA (MAZDA 3) (2005)
The gas mileage on the Mazda MAZDA3 really makes this car stand out with a 24/32 manual rating which is great for such a stylish looking car. The car is quite versatile and easy to drive due to its compact size.
Honda Fit (2011-13)
The Honda Fit was first released by the company in 2000 and has become a top selling make from the company. The 2011-13 versions of the Honda Fit offer a roomy interior, 27/33 mpg, and reliability that can't be beat by most other models.
Honda Element (2004)
Honda Elements released in 2004 are trendy looking front wheel drive SUVs that offer optional all-wheel drive and a full-featured interior. The passenger space is limited with only four seats, but there is plenty of room for cargo.
Toyota Prius (2004-07)
The Toyota Prius is well known for its gas saving qualities, but less so for the quality of its build. These cars are very affordable when bought used, offer 48/45 mpg, and have reported very few major recalls or problems by past customers.
Honda Civic (2005)
Rated one of the top vehicles in its class for safety and fuel efficiency, the Honda Civic is the best-used vehicle you can buy. It looks upscale, offers a fuel efficient 27/34 mpg, and since they were such popular vehicles, they are easy to find a low prices.
Acura TL (2004-2008)
The Acura is the perfect choice if you are looking for used car with a luxury appearance at an affordable price. Acuras are well known because they are built to last the ages, long after they reach the high mileage mark. These cars are also very powerful with upwards of 260 horsepower and a V6 engine.
Kia Soul (2010-11)
Looking a little bit like a mix between a Jeep Liberty and a mini cooper, the 2010-2011 Kia Soul is a very practical hatchback vehicle that is perfect for driving around town and getting from point A to point B. There isn't much room for cargo in this car, but it makes up for it passenger space and add-on features.
Hyundai Accent (2011)
Hyundai Accents are inexpensive and that can be noted from the hard plastic interior, but don't let that fool you. These cars don't sacrifice reliability and are extremely comfortable to drive.