Posted:
New Designs That Make The Blind Spot Less Dangerous - Vol.234
There was a time when checking your blind spot before switching lanes meant one of two things. Either you had to turn your body completely around and to check to see if you had someone in the lane next to you, thereby taking your eyes off the road in front of you; or if you couldn't see, you would just slowly begin to merge and listen out for any honking horns. Fortunately, advances in automotive technology and resources to check your blind spot have become more common, increasing safety among vehicle owners and decreasing accidents.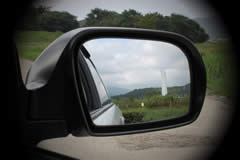 The Blind Spot Mirror
Perhaps one of the most basic fixes to this dangerous problem is to install mirrors that are custom designed to see the blind spot. New vehicle models often come equipped with this small glass panels in each of the side view mirrors. These built in sectional mirrors barely intrude on the visibility of your main side mirrors are designed so that you don't have to turn your body or perform any additional precautionary steps except to look out your side mirror before you make the lane change.
If your car doesn't have this feature already built in, they do sell something very similar in most auto part stores. There is stick on mirrors that you can install yourself?no technical experience required. These small attachment mirrors go onto the outermost corner of your side mirrors and work the same way as the built in models. They are also pretty affordable and shouldn't cost you very much to purchase and install.
Electronic Detection System
Beyond just the basic blind spot mirrors, technology has offer one step up for those that value true safety; after all, you can never be too safe. Although the system is still relatively new, some cars are coming equipped straight out of the lot with a automatic blind spot detection system.
These blind spot detection systems work with the help of discrete sensors installed on the side of the vehicle. These sensors get an accurate depiction of their surrounding environment through the use of digital images that are quickly analyzed using a computer algorithm, or by sending out an electromagnetic wave in pulses to detect if there is a car nearby.
When you try to switch lanes but fail to see the car in the lane next to you, your vehicle will flash warning lights and a sound to alert you of the impending accident. That way you have enough time to return to your previous lane and don't end up hitting the car next to you. Some of the more high tech vehicles are even built to automatically steer the car out of danger and back into the lane where you came from.
These blind spot detection symptoms often usually include a 360o spectrum safety net to alert you if anyone is getting too close on your tail, warnings to help you park in tight spots without getting in an accident, and a backup camera so that you can watch and make sure you aren't going to hit anything?or anybody?on your way out.
Technology Makes The World Safer
Technology has done an incredible job in recent years at making car safer by addressing problems with the blind spot and other serious vehicle safety concerns. To shop around for cars featuring this safety technology and to keep you and your family safe, go with PickNBuy24. PickNBuy24 is an international importer that offers affordable used cars for the safety conscious. They ship out of Japan to buyers located in Oceania and the Caribbean islands and provide outstanding customer service with years of proven experience.