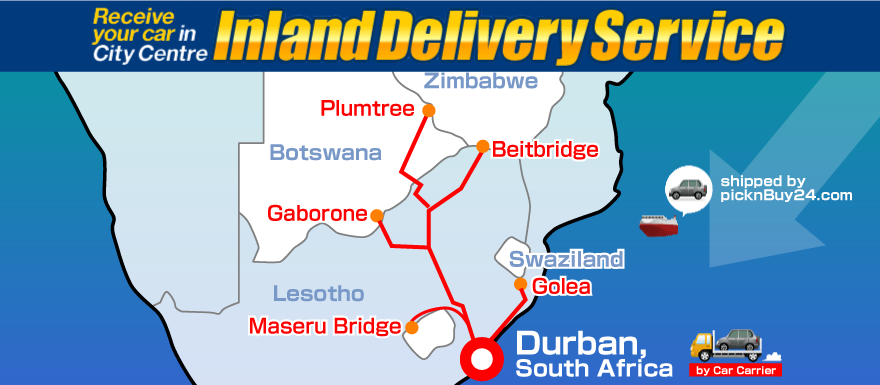 Inland Delivery Service via Durban
You just receive your car in city centre. We organize inland delivery from Durban to Chirindu, Beitbridge, Plumtree, Gaborone, Maseru Bridge and Golela.
Importing vehicles from Japan has never been easier.
Save Time and Money
Save Bank Charges
You do not need to pay for a clearing agent in Durban.
Just make a wire transfer to PicknBuy24.com. Your vehicle will be delivered to the border without any hassle.
Avoid Expensive Storage Charges
Avoid expensive storage charges are charged because we deliver your car as soon as we receive it at the port of Durban. If you are a person who is like "NO TIME TO COLLECT MY VEHICLE", this is the solution for you.
No Courier Charges
You do not need to send your documents to clearing agents in Durban.
Just wait for your vehicle. There is no hassle.
Important Information
Duty, Tax and VAT
Each of Duty, TAX and VAT is NOT INCLUDED in the price of inland delivery.
You must pay for each at the border or your agents.
The point to pick up your car
Your car will be delivered and cleared in the city center where you can collect it.
Inland Delivery powered by PicknBuy24.com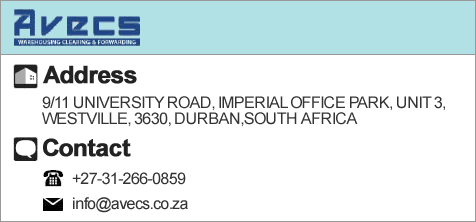 Our preferred clearing agent AVECS will deliver your car from Durban to the city of your country. Do not worry about car accidents, damages or stolen parts during inland delivery.
How to Use Inland Delivery
1

Select a Vehicle You Want

2

Select your country and destination as City Name

3

Calculate the total price up to your city