Posted:
Glimpse to the Future - Vol.468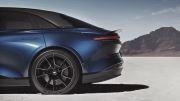 The last decade has shown a large evolution in electric cars making them no only reliable, cheaper, and more powerful than ever. The king of this performance was the Tesla Plaid which has 760 kW (1019 hp) and an acceleration of 0 to 100 around 2.1 sec and still able to have a comfortable range of 637 Km per charge, which was making this vehicle on Bugatti Chiron ¼ of mile territory on a comfortable family sedan.
However, a new contender has emerged that has shown that in ¼ of mile race can beat both of them the Tesla plaid and the Bugatti Chiron easily preserving their comfortable feature a range. The vehicle in question is the Lucid Air Sapphire, which is an incoming brand aiming to dethrone electric vehicles produced by Tesla and be the kind of Luxury electric vehicle.
This vehicle spec sheet show over 1200 hp and 0 to 100 in under 2 seconds. Making electric combustion engine believers worried about their future as similar performance only is achieved on supercars territory with a much higher price tag.
Many believe that electric car is the future and here and Picknbuy24.com we have bed ourselves on this future as we have associated with our Chinese partner Sinti auto bringing our clients the latest innovations in Chinese manufacturing to our client's doors' steps.
This new generation of electric vehicles is going to get better and better in the future and the fracture need for charging facilities will grow as well in the near future. As many governments are moving away from fossil fuels towards renewable energy and company such as Toyota, Nissan, Honda, and Mazda have started to show their development of this type of vehicle as well as their vision of the future.
However, we also believe that even though fossil fuel vehicles are going to be reduced on the roads. They are still part of our future not only as hobbies but also, as work. So, we have prepared ourselves to bring you not only Classic Japanese import cars, but as well as the latest vehicle on the market from Ferraris to Land Cruiser to Farm Tractors and everything in between Picknbuy24, have you covered for all your needs.
So,tell us .Will you choose an electric car over petrol vehicles?
Talk to our expert staff to learn more about our large offerings on electric vehicles today
Follow us in social media and tell us what do you think on the followings