Posted:
Why the Mazda Kai is important? - Vol.466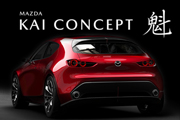 Over the last years, we have been observed how Mazda vehicles has been simplifying their interiors approach in comparison with other brands such as Toyota or Honda.
Now they have taken that philosophy and presented on their concept vehicle the ?gKai?h which is inspired on the combination of breakthrough Mazda technologies and head-turning?Kodo?design epitomizes which is characterized by clean, honed beauty free of extraneous elements, creating a strong and solid image.
The interior was simplified to amplify the connection between the driver and the car can be perceived. The driver is emerge on a new experience where is not distracted by commodities in the cockpit and instead he can focus on him the road and the car. They has achieved this emersion with a ?gless is more?h approach according to their designers.
This amazing vehicle was pair with the latest Skyactiv-X gasoline engine?that provides unprecedented refinement in driving performance. The latest generation of Skyactiv-X combine e free-revving characteristics of a gasoline engine with the fuel efficiency, torque and fast initial response of a diesel unit.
Thanks to its proprietary Spark Controlled Compression Ignition (SPCCI) technology, Skyactiv-X use compression ignition to realize an unprecedented level of sharp engine response and torqueful acceleration combined with higher fuel efficiency and cleaner emissions than ever before.
Now, even though he ?gKai?h is a proof of concept by Mazda. They has been committed this philosophy, it has been trickle down to their production cars, bring you experience on first hand on the latest generation of the Mazda 3 Hatchback which is the closest to a ?gKai?h as a production car can be as well as their latest models has been updated to this functional approach.
So talk to our agents today and get Mazda today and, experience the road on as they intended, and tell us if you also believe if ?gless is more?h.
Follow us in social media and tell us what do you think on the followings