Posted:
Are You Shaken Because of Shaken? - Vol.418
If you don't mind the play on words, Shaken is actually a vehicle safety inspection which needs to be performed every two years. This is required by law if you want to drive a vehicle on any public road in Japan.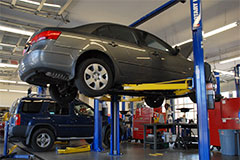 It became quite common for inspection centers in Japan that perform Shaken to charge exceptionally large amounts of money for the service, even in cases when there's nothing wrong with your car.
The process only takes a few hours, but still some will ask for over 100,000 yen to let your car go.
This is why we wanted to save you some time and guide you through the process. You'll learn what to expect and save some time and, hopefully, some money, as well.
There are costs which you can't really escape, and those include processing fee, compulsory insurance, vehicle weight tax, and all the repairs which are necessary for the car to pass the test.
Inspection centers will often impose certain other costs, so be prepared.
How to Save Money on Shaken?
With a few minimal steps, you can save some money on Shaken. First of all, you ask the service advisor to issue you a quote before they start work on the car. Shopping around will probably result in different quotes, so you can make choices according to your budget.
Keep in mind that there are a large number of garages that would give you a discount if you book your Shaken a month or two in advance.
Things to Consider
There are certain things you need to take care of before shopping around town to find the most affordable inspection center that will work on your car.
You should start 6 weeks before the process actually takes place. First of all, make sure that you have all the annual vehicle tax receipts. Along with that you'll need the recycling fee certificate and a certificate from the previous Shaken.
Also don't forget the liability insurance and the 61-point maintenance checklist.
Aside from all the aforementioned paperwork, you'll need your name stamp.
Once you're done preparing all of this, take your car's condition into consideration. A wrecked car will cost you more, but if it's in perfect roadworthy condition, you don't have anything to worry about.
Getting all the paperwork done will take some time, so it's wise to book the actual inspection beforehand. If your car has hub cap covers, don't forget to take them off because the technicians will need full access to the wheel nuts during the inspection.
If you don't know how to fill in the 61-point maintenance checklist, it's best to leave it to your mechanic or someone else who has good knowledge of cars.
The Actual Process
You can book the Shaken by phone or online. Once that's taken care of, take all the required documents and head down to the inspection center. Don't be late!
You will probably be assigned a numbered counter and the staff will guide you through all the necessary steps of Shaken inspection routine. Throughout the routine, you'll need to pay for several additional documents and these include the self maintenance record, weight tax form, vehicle inspection form, and Shaken application form.
The actual test will cover the lights and signals, shock absorbers, emissions, and wheel alignment. They will also check your brakes and the speedometer, along with a pit check to be done by a mechanic.
Once it's all done, pay the fees, taxes, and other costs, and you can collect all the documents, including the Shaken certificate for your record and sticker for your windshield.
Because of this required Shaken inspection, Japanese vehicles are relatively good in condition even after being used in years. Purchasing Japanese used cars will save your time and money for maintenance.