Posted:
The Variety of Available Shift Knobs - Vol.307
A gear stick or gear selector is a metal rod attached to the shift assembly of a vehicle's transmission and used to change gears. On top of a gear stick there is usually a knob that serves as a handle. This knob is called a gear knob or a shift knob. Usually it features a drawing of a diagram of the shift pattern of a gear system.

In older vehicles a shift knob may have a switch for turning an overdrive on and off. In cars with automatic transmissions shift knobs have buttons responsible for special modes of driving such as sports mode or an overdrive mode.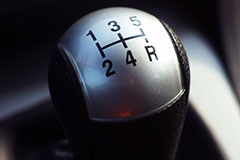 In some four-wheel drive vehicles a second gear stick with a separate shift knob is present. It controls a low-ratio gearbox that is used in off-road conditions.
Car customization has been a very popular trend lately for all kinds of cars. As the U.S. auto industry set a sales record in 2015, the customization market has also been exploding.
For example, all new Ferraris sold in 2013 had some kind of personal customization. There are agencies and design studios offering customization services for most of premium car brands, including Porsche, BMW, Audi, Aston Martin and so on.
Personalization and customization for less expensive mass-market cars has taken a different route. It has been parts like unusual custom gear knobs, steering wheels and rims that have been selling exceptionally well. All-time high stock values for stores like AutoZone and Pep Boys serve as a proof for this statement.
Shift knobs have been a part of this trend. Nowadays, there are knobs made from all kinds of materials, from cheap plastic to stainless steel, gold and platinum.
In addition to regular brick and mortar stores, there are virtually all possible kinds of knobs available on websites like Amazon, Ebay and even Etsy. Usually knobs on these websites are priced much more reasonably compared to car dealerships.
There are shift knobs for different makes and models of cars, claiming to really capture the "spirit of the car." Among such shift knobs are knobs for sporty versions of Subaru and Mini.
With the latest Star Wars movie premiering in theaters there are even shift knobs that feature Star Wars characters such as the Darth Vader Head Stick Shift Clone.
Car accessory design companies like Momo have their own lines of different knobs, too.
In addition to that, there are companies that offer custom shift knob manufacturing and offer knobs of all shapes and sizes, from knobs that look like bottle openers to knobs with personalized engravings on them.
The most expensive shift knob on the market costs $150,000. It was designed for Bentley cars and has a Bentley logo on it. Its creators call it the "World's Most Expensive Bentley Shift Knob." It is finished in 10 ounces of 18- Karat white gold and 30 carats of diamonds. This shift knob can be seen on display at the company's headquarters in Las Vegas.
Car enthusiast forums have threads devoted to the most expensive and exclusive shift knobs made by hand. On one such forum there's even a knob cut out of three pieces of titanium with polished top and bottom.