Posted:
11 Great Generations of the Toyota Corolla - Vol.303
The Corolla is probably Toyota's most well known product as it's been around for years. Here we'll look at 11 generations of Corollas.

1st Generation (1968-1969)
Simplicity was the name of the game for Toyota's two door coupe and four door sedan. It was one of if not the smallest car sold in America up until the early 70's.

It had a 60 horsepower engine with a 1.1 liter output and a standard 4 speed manual gearbox. The car's best quality was its simplicity, as it was an engineering marvel , its lack of complicated parts made it remarkably reliable compared to other cars in its class.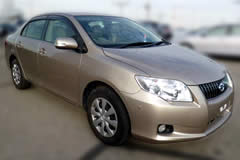 2nd Generation (1970-1974)
The upgrade at this stage was a slightly more powerful engine, the 1.2 liter that could produce 73 horsepower. The automated gearbox was introduced on standard models, but the exterior was not altered very much at all. In 1971 a 1.6 liter version was released, which became one of the most popular economy cars of the era.
3rd Generation (1975-1978)
The mid 70s corolla was given a quite radical raised center section on its grille, which defined its bizarre looking character at that time. Added to the range in the mid to late 70s were a batch of sporty versions, including a three door hatchback known as the "liftback" and a sport coupe with fastback styling. These introductions gave Toyota a range of sports cars to sell that were more affordable than the class up Celica.
4th generation (1979-1983)
For the 1979 release Toyota had given the model a new chassis and a 1.8 liter, 75 horsepower engine. Sophistication was the new agenda with this era's range, with the coupe, hatchback and semi wagon models all being designed to have a premium looking aesthetic while maintaining a low price range.
5th generation (1984-1987)
In the 80's there was a pressure for all compact car manufacturers to offer more front wheel drive cars. Toyota gave in to this trend by releasing a FWD Corolla. Within this generation the GT-S model was spawned; a 124 horsepower, 1.6 litre injection engine with 16 valves that has since become a legend in sports car's history.
6th generation (1988-1992)
In 1988 Toyota reformed their lineup, getting rid of the rear wheel drive (RWD) coupe and liftback, replacing them with the new GT-S and coupe that were both solely available in front wheel drive (FWD). Many RWD lovers hated the switch out, while many industry critics gave the model critical acclaim for its improved refinement and newfound capabilities.
7th generation (1993-1997)
Until this point the Corolla had been considered a super compact car, or economy class car. In this generation the sedan and wagon were the models principle formats and this meant it moved up a class in terms of size, to the medium compact category.
8th generation (1998-2002)
By the early millennium, the Corolla grew again in its size, but was also made lighter, with improved balance and drivetrain. Fitted with a 1.8 liter four cylinder engine that produced 120 horsepower, the car was now almost exactly twice as powerful as the original.
9th generation (2003-2008)
With this generation Toyota had the objective of designing the Corolla to appeal to more of a young adult market, but many saw this model as too "dynamically fitted" and pricey compared to most other competitors in the compact category. It was, however, still a big improvement on the 8th generation versions in terms of almost all drivability aspects. Weight to power, safety, maintenance, economy and fuel consumption were all improved.
10th generation (2009 - 2013)
This penultimate generation saw major evolutions from previous versions. Toyota have stuck to an economy compact concept throughout all models of the Corolla, and in this era of increasingly environmentally conscious consumers such pursuits are very relevant.

The car was made lighter even considering the addition of air conditioning, a larger gear box and more interior space as standard. The 2010 engine now pumps out 132 horsepower and state of the art stability control ensures the drive of this highly economical sedan proves better than ever.
11th generation (2014 - present)
Being one of the top selling passenger compact vehicles of the past 22 years, the Corolla has been one of the most popular models in the world for those looking for a simple aesthetic and reliable engineering. The latest version of the model released first in 2014 to begin its 11th generation, the biggest change from the 2013 version being the cars now contemporary dynamic look, modern interior design and comprehensive range of standardized electronic instruments.