Posted:
Acura vs. Honda - Vol.188
Honda and Acura are industry names that every person knows. However, not everyone fully understands what sets these two vehicle lines apart.

Honda had a very humble beginning. In fact, the automobile giant's founder initially worked for Toyota manufacturing piston rings. In 1946, the Honda Technical Research Institute was founded and employed only 12 men. Motorized bikes were the early company's specialty, and the Model D was the first complete unit to be released in 1949. Fast forward to present day and you will see a much different company. A company that has created world-renowned products like the Honda Accord and Honda Civic.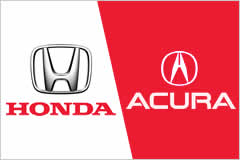 The Acura was the first Japanese attempt at penetrating the luxury car market. This line was introduced to North America in 1986 and slowly spread throughout the rest of the industrialized world. Acura saw great success after its launch and became one of the best selling luxury units in America. After a downward demand trend in the 90's the Acura was completely redesigned and new models were introduced, which resulted in surging demand in the early 2000's.
Differentiating between these two car types can be ambiguous due to the fact that the same company owns them. However, closer inspection will reveal the real trade offs.
Differentiating Factors


For our purposes we will compare the Honda Civic LX Sedan to the Acura ILX. This will give you a better understanding of what sets these brands apart.
The Honda Civic LX comes standard with a 1.8-liter 143hp engine, and has a 5 speed manual option. This base package is priced at an extremely competitive $19,190. However, at this price there are almost no mentionable features other than what is expected of a vehicle. In essence, this car is every minimalist's dream, and will provide the driver with all necessary functional capabilities. The next step up is the EX model, which will include some creature comforts like an upgraded speaker system, a smart entry system, and automatic climate control. These add-ons, as well as a few others, will price the vehicle around $21,000.
The Acura ILX comes standard with a 2.0-liter 150hp automatic engine, or a 2.4-liter 201hp manual. You can already see the difference in power, and, although this is not entirely impressive compared to other luxury models, the ILX offers a very smooth ride. In addition to the different engine, the suspension separates these vehicles even more. While the Civic comes with a standard MacPherson strut front suspension, the ILX utilizes a sophisticated 4 wheel independent suspension system. This provides a notably smoother ride than the Civic and is a point of pride within the Acura brand. However, this quality is reflected in the starting price of $26,900.
This price gap is larger than the typical gap between the luxury models and their standard counterparts, and should be of greater help in the decision making process. Due to the "drive" being such a selling point of the Acura, it is best that the buyer test-drive both vehicles in order to make accurate comparisons.
Pros and Cons


There are advantages and disadvantages to both vehicles, and these factors should be carefully considered when making a decision.
The Honda Civic is a great option when looking for a functional car that will meet your expectations and save you money. However, expect the ride to be a little bumpy, and the power to be lackluster. While this may be a turn off to some, others welcome the savings that will be realized through this option.
The Acura ILX will take your driving experience to the next level by providing a smooth and quite ride. Great for comfortable city driving, this car will exceed your expectations regarding comfort, and provides more power, but this all does come at a price.
The contrast between these two vehicles is easier to see than other combinations, and should make it easy for you to decide what is best for you.