New Arrivals
57

Stock
Discounted Cars
Premium Cars
Useful Information for First Time Buyer
Everything You Need to Know About Japanese Cars
Vol.267 - Toyota RegiusAce Versus HiAce -- Which Is ... - 26.Aug 2015

HiAce is one of Toyota's most popular and enduring models. Ever since its initial release in the 1960s in Japan, HiAce has proved to be worthy of its name, which means 'high-performance hard worker'. Over the years, the HiAce...

Vol.266 - Tire Recycling -- Why and How - 19.Aug 2015

Did you know that more than half the rubber used each year in the United States is made into tires? Or that the US alone generates annually about one scrap tire for every person? Or that there are up to 3 billion scrap tires...

Vol.265 - Honda's CR-V and HR-V -- They May Sound the ... - 12.Aug 2015

Honda's CR-V and HR-V models may be both crossovers with similar names, combining the convenience and value of a family sedan with the power of a SUV, but they are different models, and if you're thinking about...
Sejin Kim - Sales Department
Join in AGASTA CO., LTD. and dealing with purchase of stock for years. After that moved to Sales Department and start serialized Column about Japanese used cars as a car advisor with a good deal of knowledge.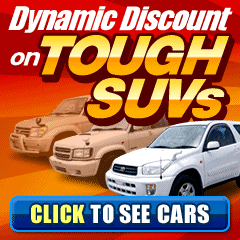 Dear Naka
Thanks for the vehicle it fantastic in excellent condition, our status in society has changed completely, As you can see on the photo, we cannot keep...