New Arrivals
79

Stock
Discounted Cars
Premium Cars
Useful Information for First Time Buyer
Everything You Need to Know About Japanese Cars
Vol.251 - Automatic Braking Technology For Safety ... - 01.May 2015

As vehicles become more and more advanced the question of safety is becoming increasingly common. Many manufacturers, such as Volvo, take the safety of their vehicles extremely seriously...

Vol.250 - Car Cleaning Tips - 28.Apr 2015

Keeping your car clean is essential if you want to ensure that it stays fresh and pleasant to drive. While many people head to a professional cleaning or valet service to get the job done...

Vol.249 - Fun Facts About Tractors - 22.Apr 2015

The humble tractor has been helping farmers complete their work more efficiently for decades. Offering high levels of torque that allow the operator to tow heavy trailers and machinery...
Sejin Kim - Sales Department
Join in AGASTA CO., LTD. and dealing with purchase of stock for years. After that moved to Sales Department and start serialized Column about Japanese used cars as a car advisor with a good deal of knowledge.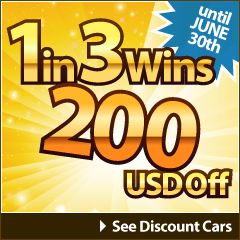 Dear Ines
Thank you very much for the cars (Nissan Terrano and Toyota Hilux Surf) we loved because he come the same way we sow in the picture and their in good...