For customers in Japan

Yes,we sell our vehicles Domestic!
Customer willing to purchase in Japan.
Please contact below, for detail



+81-3-4330-9090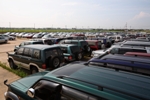 Our Nagoya yard
Delivery (rikuso) at competitive price available!
PicknBuy 24.com's stock are kept in Nagoya yard.
We can arrange delivery (Riku-so) at competitive price.

Payment in JPY accepted!
PicknBuy 24.com's price is shown by US$, however
we accept payment in Japanese Yen.

Shaken
To register and drive a car in Japan you will need to
pass Shaken(2years mandatory maintenance check
required by the Land transportation authority)


For all of above, please contact our staff for assistance.