About Total Cost


FOB(Free On Board) = Car price + Custom clearing cost in Japan.
Prices on PicknBuy24.com are based on this FOB price.
CIF(Cost, Insurance, and Freight)=FOB + Insurance(Warranty) + Freight(Shipping) cost.
Please read A2 below for the total cost to own a car.
What is the total cost required to own a car?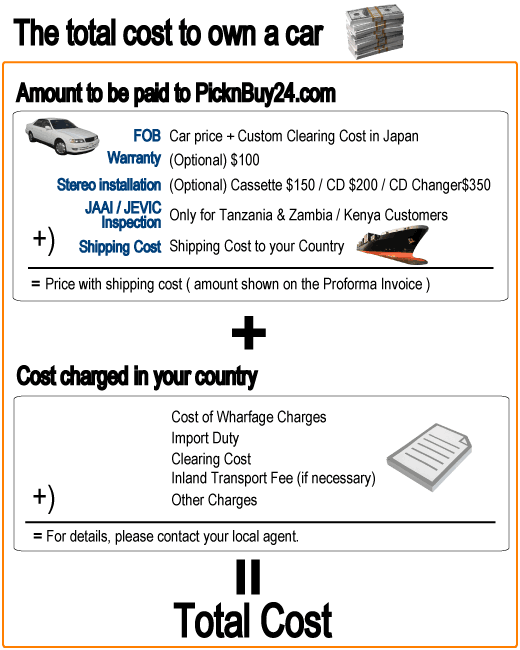 How much is the shipping cost?

Please click "Total Cost" on the vehicle information sheet to calculate the shipping cost to your nearest port.
If you click the button and select the port of delivery, the shipping cost will be automatically calculated.
Approximate shipping cost to each port
Type of car
Examples
Tanzania
Kenya
South Africa
Bahamas
PNG
New Zealand
DES
Mombasa
Durban
Nassau
POM
Auckland
Saloon
TOYOTA COROLLA
$950
$900
$800
$1,450
$1,150
$1,200
4WD
TOYOTA PRADO
$1,590
$1,510
$1,340
$2,430
$1,930
$1,200
Wagon
TOYOTA HIACE
$1,530
$1,450
$1,290
$2,340
$1,860
$1,200

What does warranty cover?

Warranty will cover the following:

•Cost of the vehicle if the vessel sinks, catches fire, or destroyed totally during transit
•Cost of "general average" (i.e. cost of salvation if vessel is rescued before sinking)
•Cost of any parts stolen, or replacement of any parts stolen, during transit
•Cost of any damage incurred during transit

Warranty is valid whilst the vehicle is on the vessel only. (i.e. Warranty ceases once the vehicle departs from the vessel's gate.)

The above accidents do not occur often, however they do occur unexpectedly.
Why take the risk of losing your hard earned money?
Warranty will give you peace of mind.


What is stereo installation?

You should check the "Stereo" on the Order Form.
Select Cassette stereo
CD player
CD changer

US$150
From US$200
From US$350
Please note that the item equipped in the car cannot be selected.

How do I receive a proforma invoice?

Please retrieve your proforma invoice after submitting your order by clicking on the "Order this Vehicle " button.

Your proforma invoice will be also sent to you by email.
Or you can also view or print your previous invoice via My Account.


Please note that the vehicles listed are the fixed price.
Therefore we cannot discount these vehicles.